Blackjack Movie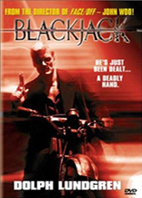 Runtime: Germany 108 minutes
Color: Color
Aspect Ratio: 1.33 : 1
Language: English
Country: Canada/USA
Director: John Woo
Release Date: 05/12/98
Cast: Dolph Lundgren, Saul Rubinek, Fred Williamson, Kate Vernon, Phillip Mackenzie
Blackjack is a "made-for-TV" feature length movie released in 1998. Directed by popular Hong Kong action flick director John Woo, Blackjack tells the story of Jack Devlin, an ex-US Marshall who now serves as a professional bodyguard.
As the film opens Devlin guards Casey, a nine-year-old daughter of a casino owner that is threatened by the mob. Devlin saves Casey from an attack in her home. During the attack he is temporarily blinded by something called a "white light grenade" and following the incident he freezes up whenever he sees the color white. Later, when Casey's father is killed by the mob Devlin goes a step further, taking her under his wing and inviting her to move in with him where she will take care of him in place of her father.
Once Casey's father is gone, Devlin begins to guard a new client – a supermodel named Cinder James. Cinder needs to be guarded from a stalker who is trying to kill her. The stalker turns out to be Cinder's ex-husband and Devlin discovers that the stalker is in cahoots with Cinder's agent. As he investigates and ultimately saves the day he grows closer with Cinder and Casey and overcomes his fear of the color white.
Blackjack incorporates a variety of exciting themes – action, high stakes, fashion and family. Though the story keeps your attention, at times the film feels confused, like it isn't sure which genre it wants to be a part of. The addition of the young girl Casey makes it seem almost like an action-packed, crime fighting rendition of A Family Affair.
The action scenes in Blackjack are higher budget and much more awe-inspiring than most made-for-TV movies and television shows. However, many John Woo fans will be disappointed. The action scenes in Blackjack have nothing on other Woo films like Hard Boiled and The Killer. It is important to note that Woo had to deal with television restrictions and censorship issues, but that doesn't seem to be an excuse for the very apparent decline in John Woo's normally outstanding style. The action scenes in the movie are so over-done with pyrotechnics, slow motion shots and more that it is absolutely ludicrous at times.
Despite John Woo's failures, Actor Dolph Lundgren did a remarkable job in his portrayal of Jack Devlin. Devlin is likeable and down-to-earth and some critics have even gone so far as to call this Lundgren's best role. Though his white light "Achilles heel" is a bit lame, Lundgren shows a lot more emotion than he has in other films and really stands out as the movie's star. The other characters in Blackjack, on the other hand, are forgettable.
Aside from forgettable characters, the plot is also pretty forgettable. It is slow moving and many scenes stretch on to the point that you wish they had been edited out. If you are a diehard fan of John Woo or Dolph Lundgren then you may decide to see the movie, but take it with a grain of salt. It's a good thing that the movie went straight to television, because it would have surely bombed in the box offices.
Related link: Blackjack Tips ; Free Blackjack Simulator ; Casino Blackjack