Up (2009)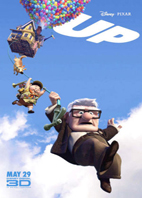 Runtime: 96 minutes
Color: Color
Aspect Ratio: 1.85 : 1
Language: English
Country: USA
Director: Pete Docter, Bob Peterson (co-director)
Release Date: 08/04/09
Awards: Won Best Achievement in Music Written for Motion Pictures, Original Score Michael Giacchino and Best Animated Feature Film of the Year Pete Docter
More: Computer-animated family-oriented adventure film
One lazy evening, I rented Up, and was totally blown away. This movie is a great story of adventure and one of those rare films that lives up to the "for the whole family" label. When Disney and Pixar team up, you know that you are in for a treat.
The story is about a little boy, named Carl Friedricksen that loves to hear all about the adventures of his favorite explorer Charles Muntz. Muntz is some great combination of a Jacques Cousteau and astronaut to little Carl and you can see the eagerness in Carl's eyes to be in his own adventure. Poor Carl, however, is not the most athletic kid that you will ever see, and in fact he is charmingly klutzy.
Little Carl passes a condemned house and decides to investigate the racket he hears inside. Cautiously peering inside, he sees there is a person. Of all the good fortunes, she is dressed in the same flight cap and goggles as he. Little Ellie is a gap-toothed, fast-talking wonder. She shares all the same passions for adventure as Carl and they become fast friends. Ellie makes Carl promise that he will go to Paradise Falls, South America with her.
Being such a perfect match, they get married and live their life happily married with a sweet little house. Just as our childhood dreams turn into nothing more than a memory, so did the Friedricksen's promise to travel to Paradise Falls. As the couple grows older, Ellie passes. Carl mourns her and misses her, but continues his daily routine. The dream of Paradise Falls seems like nothing more than a childish fancy.
However, the world all around Carl is changing. There are high-rise developments going up all around his home. He is determined to keep the house, as if Ellie's memory still lives in the walls. Due to some big trouble he gets into, he is sentenced by the courts to move into a retirement home. Carl has one last trick up his sleeve and it couldn't possibly be more dramatic! Carl unfurls the thousands and thousands of colorful balloons that lift his life-long home off the ground and set course for Paradise Falls. His promise to Ellie is at last fulfilled and he is able to squeeze in a great adventure in his final years.
There is a knock on the door. A knock on the door as this house is sailing through the air! What a great surprise for the audience who thought the story was already tied up nice and neat. A wilderness scout named Russell has been trying to convince Carl, the oldest man around, to let him be helped across the street in order for Russell to receive his final badge: assisting the elderly.
Russell is the perfect new partner for Carl. Russell is young, rotund and so very much like a young Carl. Everyone can see that except the grouchy old sour-puss Carl. With the house on its way to Paradise Falls, Carl is forced to deal with Russell which is a million laughs for the audience. Carl is so earnest and loveable that he attracts the affection of a large blue bird in the jungle. The guys are tugging the balloon-float house to its perfect spot and begin a whole new series of adventures that tests their mettle.
Dug is a sweet mutt that is searching through the jungle when he runs into the guys and the house. Dug is wearing the greatest imaginary invention ever imagined. He has a collar that can vocalize his dog thoughts. If you have ever had a dog, then I am sure, like me, you will be in stitches. Dug is so funny, loving and distractible. Just like a real-life dog.
The guys come to find out that Dug belongs to, none other than, THE Charles Muntz. Muntz is the very same explorer that young Carl idolized decades earlier. Muntz had disappeared in the jungle surrounding Paradise Falls in search of the big blue bird, that Russell named Kevin. After all this time, the bird had continues to allude him. Muntz was unable to return to the USA and restore his reputation without the bird, Kevin.
Muntz turns out to be a very greedy man, either because he is consumed by this life-long bird-search or because he has always been this way. There is a strong connection between all three of the guys there: Carl, Charles and Russell. Carl and Charles are at the end of their life and wondering what their legacy will be to the world. Carl thought that his would be to fulfill his promise to his wife and land his house on the waterfall of Paradise Falls. In the end, he has one amazing adventure that only a child could have thought possible.
Russell returns home to his scout troop ceremony where Carl pins him with the same grape soda pin that a young Ellie pinned him with when they first met. The adventure story is warm and sweet. The technology that Disney/Pixar uses is so gorgeous that you can feel the colors and movement so exactly. I love that their movies are top notch on every level. I love good animation and I think that you can feel the love and detail that has been scrutinized. Up made me laugh, cry and laugh again. I loved it because I am feeling that slip into adulthood and loss of childish fantasies. But the childish fantasies and adventures may very well be our own legacy to the world.