James Bond's Casino Royale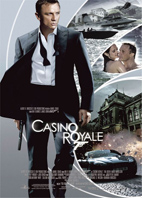 Runtime: 144 minutes
Color: Color/Black&White
Aspect Ratio: 2.35 : 1
Language: English
Country: USA/UK/Germany/Czech Republic
Director: Martin Campbell
Release Date: 11/17/06
Cast: Daniel Craig, Eva Green, Mads Mikkelsen, Judi Dench
Award: Award for Best Sound at the 2006 British Academy of Film and Television Arts Awards etc, won 16 awards
James Bond's Casino Royale, released in 2006, has been touted as not only one of the best Bond films in years, but as one of the best Bond films ever. Daniel Craig portrays an edgier Bond and a more realistic Bond in a darker, more brooding atmosphere and plot than we are used to in earlier Bond films.
In the past when a director has tried to make a bond movie that reveals the darker Bond portrayed in Fleming's books, as John Glen did in the 1987 Bond film The Living Daylights, it was not received well. Moviegoers were looking for the invincible, superhuman Bond from previous Bond films. However, it seems that times have changed and the critics just loved the ominous, human Bond portrayed in Casino Royale. Director Martin Campbell seems to have hit the nail on the head with this one.
Casino Royale is based on Ian Fleming's novel by the same name-Casino Royale, the first book in the Bond series. The story begins before Bond has achieved Double-O status as an agent. He is not yet the trained killing machine, equipped with gadgets and experience that we know from other Bond films. Rather, he is somewhat clumsy and not self-assured in the slightest. When the film begins we see no hints of the man we have grown to know and love as "Bond, James Bond". However, as the movie progresses and he puts on his first tuxedo, learns to seduce, learns to love and learns to kill, we see him grow into the great 007.
Casino Royale opens as Bond corners and kills the corrupt MI6 section chief and his contact in the underworld to earn his Double-O status. The film then goes on to show Bond's first mission as 007. Bond's mission is to prevent a terrorist-funding banker named Le Chiffre from winning a casino tournament. Le Chiffre needs to win the tournament in order to recoup his clients' money that he lost in a botched deal, which happened to have been foiled by Bond. Throughout the course of the plot, Bond floats through scenes of seduction, terror and violence, fear, love and recklessness. These experiences turn him into the fearless, superhuman man seen in earlier Bond films.
Though Casino Royale does away with some of the Hollywood glitz, glam and gadgetry of other Bond films it is still action-packed. The film has some awe-inspiring stunt work, realistically violent torture scenes and doesn't skimp on the fancy cars-incorporating a 1964 and later 2006 Aston Martin DB5 into the film.
Casino Royale is a fresh change from the Pierce Brosnan Bond of recent films, which many Bond lovers were getting sick of. Aside from the darkness of the character and plot, a noted change from electronic music to orchestral scores demonstrates a throwback to earlier Bond films. Many critics were baffled by the decision to cast Daniel Craig in the role of James Bond before they saw the film. However, it seems to be an unwavering consensus that he is the best Bond in years and moviegoers around the globe look forward to seeing more of him in future Bond films.
Unlock your inner James Bond and step onto the Drake Casino tables.
Links in Interest: Soccer Bets at GT and Video Poker