Showgirls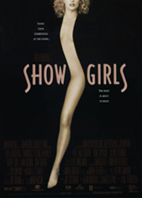 Runtime: 128 min/USA:131 min (NC-17 version)
Color: Color
Aspect Ratio: 2.35 : 1
Language: English
Country: France/USA
Director: Paul Verhoeven
Release Date: 09/22/95
Cast: Elizabeth Berkley, Kyle MacLachlan, Gina Gershon, Glenn Plummer, Robert Davi, Alan Rachins
Awards: Worst Picture (Won), Worst Director (Paul Verhoeven, Won), Worst Screenplay (Joe Eszterhas, Won), Worst New Star (Elizabeth Berkley, Won), Worst Screen Couple ("Any combination of two people, or two body parts", Won), Worst Original Song ("Walk Into the Wind", Won)
Showgirls opens with a young woman, Nomi Malone, hitching a ride to Vegas at a truck stop. Nomi seems sweet and innocent, until we find out that she is on her way to Las Vegas to make it big as a topless dancer, the driver tries to his on her and she pulls out a switchblade. However, tough as she is, the driver succeeds in robbing her-leaving her sitting alone in a casino as he drives off with everything she owns. Luckily, Nomi meets a nice seamstress named Molly who helps her by taking her in.
Nomi gets a job at as a dancer at a sleazy topless bar called Cheetah's. Although she dreams of bigger and better things, as a Vegas showgirl, she settles for Cheetah's for the time being because it allows her to dance for a living, which is what she loves to do. She gets a taste for the bright lights when she goes backstage at Goddess, a big time topless Vegas show at the Stardust that Molly works at as a seamstress and Nomi decides that starring in a show like this is her ultimate dream.
The viewers are then given a true glimpse of the seedy Las Vegas strip scene. We see Nomi turn from innocent (in the loosest description of the word, of course) to a catty vixen that will do almost anything to get what she wants, and all the wile a parade of topless women flutter about the screen. The topless women are one of the things that Showgirls is most notorious for. Showgirls is erotic and highly sexually charged and is the first major motion picture to receive an NC17 rating, restricting all moviegoers under the age of 17 from the theater. But are breasts and eroticism the only things the film has to offer?
Many critics have said that the film lacks a coherent story, is badly written, badly acted and not worth seeing. Even for moviegoers who are just interested in the nudity, Showgirls is overwhelming as it is in-you-face nearly the entire duration of the film with full frontal nudity. This in-your-face style is anything but arousing.
The choice of actress for the leading roll, Nomi Malone, is a bit off. The character of Nomie is played by actress Elizabeth Berkley. Although Berkley can certainly dance and has the body for the role, Showgirls was made only two years after the graduation episode of Saved by the Bell, in which Berkley played one lf the lead roles, Jessie Spano. It is hard to differentiate between the sweet, goody two shoes character of Jessie Spano and this hard-edged topless dancer and sexual predator we see on the screen in Showgirls. The movie's all-star cast also includes Gina Gershon as Cristal Conners, the star of Goddess; Kyle MacLachlan, who later starred in Sex and the City and Desperate Housewives; and Glenn Plummer.
Showgirls won nine awards. However, when you hear what awards this film took home you'll understand more fully just how bad this film is. Showgirls took home the award for Worst Film at the DFWFCA Awards; Worst 'Drama' of Our First 25 Years and Worst Picture of the Decade at the Razzie Awards, in addition to Words Actress, Worst Director, Worst New Star, Worst Original Song, Worst Picture, Worst Screen Couple and Worst Screenplay. If there is any reason to watch Showgirls it's to see just how bad it is.
Director Paul Verhoeven and writer Joe Eszterhas should be given credit for an attempt to break new ground-bringing the seedy world of prostitution, stripping and pornography to the mainstream. However, the story is too dull for the mainstream audience and viewers looking for an adult film are better off staying in and watching the Spice Channel.
 Comments:
(From Kelly, caramelangel8******)
I dont think that Showgirls was the worst film ever made. In personal I liked it on the note that I have seen it many of time. People would understand it if they went threw it…. Having the gift to or talent to dance is big in the world, I think  Elizabeth Berkley was a hit in the show because u would never think she would play such a character in I think she was great… It was one of my Favorite film…… Give her, her credit for being so strong in the film in the man to play the playd the house in  a cheetahs was a hit to the peak-a-boo flop that he did with tites in the dress was funny in the joke where funny too. It wa hiliarious… I loved the movie so much I am trying to find it dvd so that I can see it i Havent watched it or seen it in a year. Its my favorite thank to the cast the director and the producer for coming out with such a movie….. The only crowd that really appreciate the film understands it……………..