Shutter Island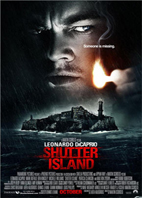 Runtime: 138 minutes
Color: Color
Aspect Ratio: 2.35 : 1
Language: English/German
Country: USA
Director: Martin Scorsese
Release Date: 02/19/10
Film star: Leonardo DiCaprio, Mark Ruffalo, Ben Kingsley, Michelle Williams and Emily Mortimer
Going into the theater to see Scorsese s new film, Shutter Island, I wasn t sure what to expect. From the trailers this film looked like a purely terrifying horror film, but I knew that since it was directed by the great Scorsese it had to be more than that. I wasn t disappointed. Shutter Island is a rollercoaster ride-one of the best psychological thrillers I ve ever seen, with ups and downs and turns at every corner.
Shutter Island tells the story of two U.S. Marshals, Teddy Daniels (played by Leonardo DiCaprio) and Chuck Aule (Mark Ruffalo) who are investigating the disappearance Rachel Solando, a mental patient who disappeared from her locked room at the Ashecliff Hospital for the Criminally Insane on Shutter Island. Rachel, the missing patient, was institutionalized after she drowned her children, although according to her doctors she thinks that her children are alive and well and that she is at home.
The film follows Teddy and Chuck as they search for Rachel, interview doctors and patients, find Rachel and ultimately discover a very real and surprising truth, which you ll have to watch the film to find out for yourself! As the film progresses we delve into the mind of Teddy, learning about the recent death of his wife and visiting his past through flashbacks and visions, as Teddy slowly seems to deteriorate. Is Teddy really losing his mind? Is it the island that is bringing out these flashbacks in him? What is real? This film really makes you think and wonder about what is really going on under the surface.
I was glued to the screen throughout the entire film, and not just because of the dramatic twists and turns of the plot. The film is a period piece, set in the 1950s and everything from the costumes to the set design and dialogue put you back in that time. Scorsese also did a fantastic job of integrating modern technology into this period piece. The techniques and technologies used to create the eerie atmosphere, Teddy s creepy flashbacks and the ghostly ambiance of the film do not take away from the 50s-era feel of the film at all. Rather, they add to it and result in a mood like none other seen in a 1950s period film.
The acting in the film is superb, of course. Leonardo DiCaprio does an amazing job of convincing the audience of his situation as his mind deteriorates and he gets more and more sucked in to his investigation. Other all-star performances include those of Mark Ruffalo and Ben Kingsley.
If you enjoy feeling scared and uneasy then this film is a must-see. Every twist and turn of the plot makes you question everything, including yourself. It takes a lot to accomplish what Scorsese has in this film-to make the viewer believe everything he is seeing as it unfolds, to make the viewer really get inside the head of the main character, and to end with the biggest twist and turn of all and have it come as a true surprise. But I guess it s not a big surprise that he gets away with it in Shutter Island-after all, he is Martin Scorsese!