New Jack City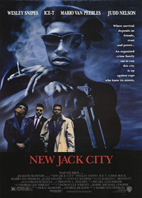 Runtime: 97 minutes /UK:101 minutes
Color: Color
Aspect Ratio: 1.37 : 1
Language: English
Country: USA
Director: Mario Van Peebles
Release Date: 03/08/91
Cast: Wesley Snipes, Ice-T, Mario Van Peebles, Judd Nelson, Chris Rock
The highest grossing independent film of 1995
Crack cocaine is the new disease on the streets. Gangs are the new crime syndicate. In a world of money, crime and betrayal, you never know where the truth is hiding. New Jack City is an action-packed crime story, wrapped in a drama. Nino Brown, played by Wesley Snipes, has hopes of becoming the biggest drug lord in New York City. He slings crack for cash and, with the help of his gang, takes his operation to the next level. After muscling out the tenants of a project called "The Carter", he moves in his gang and turns the whole building into a crack house.
Undercover police officers Scotty Appleton, played by Ice T, and Nick Peretti, Judd Nelson, try to gather evidence on the gang to stick them with a drug trafficking charge. Pookie, played by Chris Rock, is their undercover informant. Pookie is a recovering addict that can't stay clean working in the middle of The Carter. His body is found strapped to a bomb, in a jaw-dropping scene. The gang begins to fall apart as Nino's greed and narcissism take over his life.
In a poignant scene, Nino watches Scarface and swears he will never make the same mistakes. With a directorial punch, Nino's face is reflected on the dead face of Tony Montana's foreshadowing the inevitable. So the dismantling of Nino's empire begins to fragment as Appleton reveals to Nino that his best friend and partner is planning to start his own cartel and compete for Nino's business. Nino's childhood friend is killed in cold blood and the gang collapses.
Nino is finally brought to court through the work of Appleton and Peretti, but with disappointing results. In the final climax, Nino is given a pathetic charge for his horrific crimes. As he walks out of the courthouse, he is shot dead by a tenant of The Carter he had treated so brutally.
Mario Van Peebles'movie directorial debut was in 1991 with New Jack City. The story set in the New York City projects was based on a cover story written for the Village Voice by Barry Michael Cooper called "Kids Killing Kids: New Jack City Eats Its Young". Cooper adapted this story to the script for New Jack City. Thomas Lee Wright is also credited for writing the script based on his original script called Leroy Nicky Barnes.
New Jack City was the top-grossing independent film released in 1991 and nearly recovered its production costs on opening weekend. The action-packed crime drama has a brilliant pace, whisking along the audience into the dark — if not glamorous — crime under world. There are some break-out performances that were highly regarded including Ice-T and Wesley Snipes.
Some of the criticisms following New Jack City include the disjointed narrative in the second half of the movie. There is a feeling that you are being rushed through without proper set-up. The fast-pace can be too aggressive for some with a camera that jerks around in a style that may have felt fresh in 1991. For a drug / crime drama of a different flavor, New Jack City is still referred to by hip-hop culture as a lesson in greed and the faulty notion of building your empire on crime.