The Fog of War
Eleven Lessons from the Life of Robert McNamara (2003)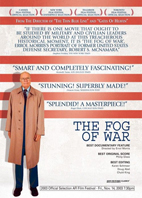 Runtime: 107 min (theatrical version) USA
Color: Color
Aspect Ratio: 1.85 : 1
Language: English
Country: USA
Director: Errol Morris
Release Date: February 2004 (USA)
Film star: Robert McNamara, Fidel Castro, Barry Goldwater, Lyndon Johnson
Awards: Won Oscar Best Documentary, Features
Fog of War is the 2004 documentary by Errol Morris that won the Oscar (Best Documentary) that year for its look at the life of Robert McNamara. I am too young to remember the importance of Mr. McNamara as he served under presidents Kennedy and Johnson. However, the lessons that he offered from the wars at that time, seemed to be timely again as the then Bush administration was looking for the weapons of mass destruction in Iraq; but I digress.
History buffs, political pundits and the like would love this movie and have a field day ripping it apart for good or bad. However, I don't claim to be an expert on either of these subjects but this film moved me no less. What is so unique and captivating about Fog of War is Mr. McNamara himself. The story goes that he agreed to sit with Morris for an hour interview for a PBS special. It turned out that they sat together for 8 hours that first day. McNamara came back again and added more tape on subsequent days.
McNamara is able to maintain direct eye contact with his audience thanks to Morris' own invention, the "Interrotron". You might not notice the difference of an interviewee looking off to the side of the interviewer or directly at the audience unless I told you. But the subtle difference gives an intensity and personal touch that you just don't get otherwise.
The documentary quickly introduces the audience to a young McNamara and his success story as a determined and ambitious student through University of California and the MBA program at Harvard. He was a professor at Harvard and then joined the Army Air Force under Major General Curtis LeMay. All of these experiences were important to him and led to his appointment as Secretary of Defense under President Kennedy.
McNamara recounts his experiences as a lieutenant colonel under General LeMay and the firebombing of Tokyo. 100,000 Japanese civilians were killed in one night, one million others across 67 different cities before the nuclear bombs were dropped to end the war. As McNamara recounts this with great emotion, he does not offer apologies, but I felt that his act of remembering these lessons were his legacy to our generation. "Lesson #5: Proportionality should be a guideline in war."
Under Kennedy, McNamara was the negotiator during the Cuban Missile Crisis. He emphasizes how truly close the Russians and Cubans were to completely launching a full-scale nuclear holocaust while the rest of the world was wholly oblivious to that fact. Lesson #2: "Rationality will not save us." McNamara says, "I want to say, and this is very important: at the end we lucked out. It was luck that prevented nuclear war."
The death of President Kennedy causes McNamara to become very emotional. The change of presidents during Vietnam was very messy. The details of Vietnam are presented by Morris' use of historical video and recordings from the Oval Office. I found this candor so elucidating and eye-opening to how decisions are made behind the closed doors of the most powerful people in the world.
Lesson #9: "In order to do good, you may have to engage in evil." There were so many evil things that happened around the Vietnam War both in Vietnam and back home in the USA. The retrospective looks at the Quaker that sets himself on fire in protest in front of the Pentagon to the Agent Orange blanketing the green hills of Vietnam.
The Fog of War is history told by Robert McNamara. He offers his lessons learned and his wisdom. He does not offer any apologies, but after he is done talking I didn't expect him to. He is proud, he is shrewd and he did what he was hired to do. The real issue that is at stake is if generations now and in the future will learn the lessons of these wars and never repeat them?
Errol Morris takes the twenty-odd hours of interview material and pulls out these eleven lessons as a structure for the film. I thought everything about this movie from Morris, to McNamara, and even the soundtrack by Phillip Glass made genius collaboration. This is one film that you will catch even more as you watch it a second time.