Leaving Las Vegas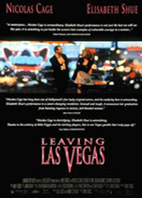 Runtime: 111 minutes
Color: Color
Aspect Ratio: 1.85 : 1
Language: English/Russian
Country: France/USA/UK
Director: Mike Figgis
Release Date: 10/27/95
Cast: Nicolas Cage, Elisabeth Shue
Award: Academy Award for Best Actor(Nicolas Cage), Golden Globe Award for Best Actor – Motion Picture Drama(Nicolas Cage)
The 1995 hit Leaving Las Vegas opens with the leading character Ben Sanderson, played by Nicolas Cage, getting fired from his job as a Hollywood agent. An alcoholic, sinking further and further into the depths of depression, Ben resigns to head to Las Vegas with one mission-to drink himself to death.
Ben arrives in Las Vegas, a fitting destination as the world's capitols of self-pity and self-loathing, spinning in a downward spiral of drunk and drunker. He is alone until he crosses paths with Sera, a troubled hooker with masochistic tendencies and a heart of gold played by Elisabeth Shue, that Ben hires for conversation. Sera is drawn to Ben's vulnerability and doomed outlook on life and asks him to move in with her. He agrees, but only under the circumstance that she won't bother him about his drinking-after all, he is planning to drink himself to death. Sera agrees to leave Ben alone about his drinking, as long as he won't judge her or interfere with her hooking.
Leaving Las Vegas follows the lives of Ben and Sera as they continue in their downward spiral together, intermingling their companionship with love and their depression with a faint glimmer of hope.
Alcoholism is a heavy subject and Leaving Las Vegas doesn't glamorize it. Director Mike Figgis does a fantastic job of showing the true pain of addiction and manages to completely avoid all the clichés of glitz and glamour that go along with the bright lights of Las Vegas nightlife, drinking and partying. Most films that take place in Las Vegas focus on bright lights and casino nights, but not Leaving Las Vegas. Much of the film takes place in seedy motel rooms and on grey, hazy mornings-gloomy and depressing.
However, as much as Figgis works to portray the reality of alcoholism, in no way does Leaving Las Vegas preach. The film is non-judgmental and viewers are encouraged to make their own conclusions about alcoholism. Leaving Las Vegas is merely a character study of one alcoholic and his tumble into the abyss.
Nicolas Cage does a superb job of playing the part, which can be confirmed by the fact that he took home the Oscar for Best Actor at the 1996 Academy Awards. Elisabeth Shue was also nominated for Best Actress, but was beat out by Susan Sarandon in Dead Man Walking. The film, actors and director also took home awards from the Boston Society of Film Critics, the Chicago Film Critics, the Directors Guild of America, the Golden Globes, the Independent Spirit Awards, the LA Film Critics Association, NY Film Critics, Screen Actors Guild, and more.
Leaving Las Vegas is by no way an uplifting film. It deals with incredibly tough subjects-alcoholism, depression, and prostitution. However, in contrast to what one may think Leaving Las Vegas is not a dreary and depressing film. Although parts of the film are in fact a downright downer, the movie is romantic and even humorous at times.
Some critics of the film have said that Leaving Las Vegas doesn't really go anywhere. They've said that it moves at a slow pace and the characters don't really go through a huge transformation by the end of the film. However, Leaving Las Vegas was not meant to be a fast-paced action film, a romantic comedy or even a gripping drama. Rather, Leaving Las Vegas was a small art film meant to be a compelling character study of two individuals sucked into addiction, depression and the melancholy of life-looking for hope and better times. This goal was succeeded masterfully.
Site you might be interested in: Vegas slots from a free online slots site.