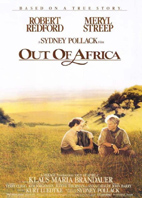 Runtime: 160 minutes
Color: Color
Aspect Ratio: 1.85 : 1
Language: English/Swahili
Country: USA
Director: Sydney Pollack
Release Date: 12/18/85
Cast: Robert Redford, Stephen Kinyanjui, Meryl Streep, Michael Kitchen
One of the greatest romantic epics of our time, Out of Africa tells the story of Karen Blixen. Karen is a well-to-do Danish woman who moves to Africa to start a plantation. When her beau passes away she decides to marry his brother Bror Blixen. She and Bror share a strong friendship with no romantic inclinations, but marry for companionship. However, this marriage of convenience doesn't turn out to be as successful as Karen had hoped.
The plot follows Karen and Bror through a rocky marriage, studded with infidelity, independence, war and finally a bout of syphilis that sends Karen home for three years of recovery. When her husband finally leaves the house the plot takes a turn, traveling with Karen through several more failed love conquests. Though Karen struggles and suffers through a great deal of the film, Out of Africa retains a hopeful attitude. The film's protagonist is a very strong-willed woman and the underlying moral of the film seems to be that it is better to have loved and lost than to never have loved at all.
When Karen is done with her African adventures in Kenya she returns home to write about her experiences, trials and tribulations. She writes about love, loss and her new found appreciation and respect for African culture. Karen writes under a pseudonym–Isak Dinesen–as the screenplay is based on Judith Thurman's book Isak Dinesen: The Life of a Storyteller.
Released in 1985, Out of Africa was very well received by the public. Though the film's major stars, Meryl Streep and Robert Redford, did not receive Academy Awards for their performances, the film still fared quite well. Out of Africa took home seven Academy Awards including the awards for Best Picture, Best Director, Best Art Direction, Best Cinematography, Best Original Score, Best Sound and Best Screenplay. Out of Africa also took home awards at the Golden Globes as well as a number of film critics' awards, writers' awards and foreign film awards in Japan, London, Italy, Germany, France and Japan.
The film is certainly deserving of its awards for best cinematography and best art direction. Shot in Kenya, the film has a magnificently exotic quality to it, reminiscent of National Geographic films. However, despite the film's beautiful use of Kenyan landscape it has still taken a bit of heat for its length. Out of Africa is over two and a half hours long and many critics have declared that it does not have any distinct narrative or plot driving it from beginning to end. It simply follows the life of protagonist Karen Blixen through heartache after heartache.
On the other hand, an astounding number of critics praised Out of Africa for its plot and length, calling it one of the most beautiful romantic epics ever made. What makes this film great is that it doesn't sugarcoat everything. The truth is that true love does not always work out. However, even if we can't quite reach our goals in love we can still achieve greatness, just as Karen (AKA Isak Dinesen) does in Out of Africa.